Shraddha – 3 short plays from Era.Murukan
Shraddha is staging three short stage plays this season. These are based on Tamil author and movie scriptwriter Era.Murukan's stories. The author who himself has decanted his works from the medium of short story to that of stage play says – 'I commenced the work knowing pretty well the advantages and limitations of both mediums. I first approached drama with the back pack of my exposure to movies but soon found out this is quite another breed altogether different from celluloid. Fast cuts, jump cuts and dissolves just cannot happen here and the game is to be played strictly according to the rules of the Proscenium theater, though you have the liberty to experiment with to your heart's content, within the frame work of drama'.
Era.Murukan selected all the three plays based on their impact on his readers as evidenced by their responses when these were published in leading Tamil journals. The first story is about the influence of inter-personal relations and a genuine yearning for it on human behaviour while the second is on the impact of the technology dominated environment on human relations and on self actualization. The third story is about where the first two will lead to – a probable future not far away, of necessity-driven relations.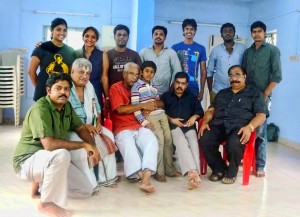 Thus Azhwar narrates a chance encounter between an elderly gentleman immersed in the past and searching for those dear to his heart and a young man from deep South also in a search, though of a differnt kind. The Azhwars of Vaishnavite tradition are collectively called so as their souls were totally in oneness with the Divine. Likewise, the Azhwar here is blissfully unaware of his being caught in a time warp which involves his concern for the wellness of his only daughter and her husband to be. The story occurs during an early winter night in Chennai of 1980s in Mambalam, a bachelor's heaven those days with the sights and sounds of the period forming the backdrop while Azhwar and the young man move the gripping story forward as they walk down the dimly lit street to their destination.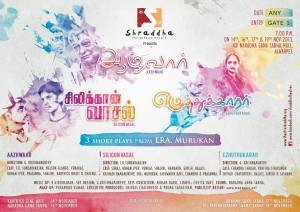 The second stage play 'Silicon Vaasal' is about a computer software engineer. Era.Murukan himself being an IT professional with around 30 years techno banking and project management experience, attempts to capture all the thrills, threats, tension, pressure, strained human relations and the ennui due to the need for constant chase of the moving-target of performance-excellence and the unavoidable display of one-up-manship. This story too happens during a night which seems to meander into endlessness with the protagonist having no one to interact with at his cubilce but for the computer and other inanimate objects in a typical IT sweat shop. Does his hallucination consume him or is he able to overcome it and walk into the dawn of the day that breaks anew? That forms the rest of this fast paced drama.
The third stage play 'Ezhuththukkaarar' (Letter Writer) is a gentle and at times pungent satire of a different kind. A young couple, occupying senior managerial positions in computer infrastructure and software behemoths approach an outsourced services provider. Their requirement? A personal letter writer. The interactions the young woman is having with the service provider through a scheduled audio conference call with her husband too participating from his desk at office heightens the drama and takes it to an unexpected and thought provoking conclusion.
Join us at Narada Gana Sabha on Nov 15,17,18 and 20 and be ready to get soaked in a total 360 degrees theater experience that is DIFFERENT.
—
இரா முருகன் பற்றி
—-
Era Murukan
Era.Murukan (Murugan Ramasami) is a noted novelist, short story writer, movie screenplay writer, poet, columnist and translator from Malayalam besides being a writer on information technology in Tamil. He is the recipient of numerous honours including the prestigious 'Katha' and 'Ilakkiya Chintanai' awards for literature and NCERT award for writing on science.
Era.Murukan belongs to the rare breed of Tamil authors who have made their mark in both mainstream and experimental fiction. He has published 22 books so far and his works have been translated into Malayalam, Hindi, English and Telugu.
Era.Murukan is currently working on the third volume of his magical realist novel anthology 'Achchutham Kesavam'. The first two novels of the anthology 'Arasur Vamsam (2004)' and 'Viswaroopam (2013)' have received a good reception among both discerning readers as well as critics, with the English translation of Arasur Vamsam (Ghosts of Arasur) being shortlisted for the annual Crossword Award. Besides these,  Era.Murukan is also currently working on a couple of non-fictional works – 'Forex in tweets' (English) and  'Rendaam Raayar Kaapi Klub', a collection of articles in Tamil.
Era.Murukan has penned the dialogue and worked on the script of Kamal Hassan, Mohan Lal starrer 'Unnai pol oruvan' and Ajith starrer 'Billa 2'. He is currently working on a period drama with ace director, cinematographer Rajiv Menon and another with the veteran Govind Nihalani.
A senior management professional with an international IT organization, Era.Murukan is widely travelled and till recently was based in Edinburgh, Scotland, He is now a quiet resident of the noisy T.Nagar area of Chennai.
Published in the Hindu – a short interview
I was mesmerised by the way he emoted the scenes before me'
By V Haripriya
When Era. Murukan met Kamal Hassan at the condolence meet of his mentor, writer Sujatha, little did he know that he will be summoned to write dialogues for Ulaganagayan's film very soon. The principal consultant with HCL BPO says he never dreamt of entering tinsel town."I still remember the day I got myself introduced to Kamal Hassan. I was really surprised when the actor said he was planning to get in touch with me," says Murukan, the dialogue director for Kamal's upcoming flick Unnai Pol Oruvan. The movie is inspired from Neeraj Pandey's A Wednesday, and has Kamal Hassan and Mohanlal playing the roles of Naseeruddin Shah and Anupam Kher respectively.
Scripting dialoguesMurukan Ramasami, better known as Era. Murukan in the literary world, is kicked about his new status. "After finishing my first draft, I met Kamal Hassan in the conference room of his Alwarpet office," he exclaims. "Kamal went through the lines and started enacting. I was mesmerised by the way he emoted the scenes before me – the very moment. I was so absorbed that I forgot to note down the corrections he made in the draft."
Besides, writing a number of short stories, novels and poetries, Murukan has also written books on Information Technology in Tamil. His novel Ghosts of Arasur was short-listed for the prestigious Crossword Award. In fact, Murukan was called to assist Kamal Hassan while he was writing script for Marmayogi.
About juggling his profession and passion, Murukan says, "I did take a couple of days off from work to be at the shooting spot. When the shooting was on in Hyderabad, I dropped in on every weekend to assist the crew members. Now that the crew is in Chennai, I hope things will be easy for me."
Working with Mohanlal? "He is a great actor and a very humble person. Any doubts in dialogues, he would clear it with me sincerely. It was an unforgettable experience to work with the two mega stars."
Sensitive penTalking about the reason behind changing the title from Thalaivan Irukkiran to Unnai Pol Oruvan, Murukan says, "Kamal is an ardent fan of writer Jayakanthan, whose movie of the same title won the President's award (third prize) in The Best Regional film category. Since this film is about a common man, Kamal Hassan felt that Unnai Pol Oruvan would be more appropriate."
"
We are not making a scene-to-scene remake of A Wednesday. Changes have been made in the script to suit the Tamil and Telugu audience," says Murukan.
So, how important is the role of a dialogue-writer? "The person should be sensitive. He should know where to silence his pen. There will be scenes in a movie, which can be more effective without dialogue. This should be accepted by the writer," says Murukan, who is now flooded with offers to write scripts.
கட்டற்ற கலைக்களஞ்சியமான விக்கிப்பீடியாவில் இருந்து.
இரா. முருகன் (1953; சிவகங்கை, தமிழ்நாடு) அறியப்பெற்ற எழுத்தாளர். இவர் கணினித்துறையில் பணி புரிகிறார்.
குடும்ப பின்னணி
இவரது தந்தையார் நா.சீ.இராமசாமி. தாயார் மீனாட்சி.
எழுத்துலக வாழ்வு
1977-ல் கணையாழியில் முதல் படைப்பாக ஒரு புதுக் கவிதை பிரசுரமானதோடு இவருடைய எழுத்துலகப் பிரவேசம் தொடங்கியது.
கவிஞராக அறியப்பட்டு பின் சிறுகதையாசிரியராக, நாவலாசிரியராக முகிழ்ந்தவர். இலக்கியப் பத்திரிகைகளிலும் வெகுஜனப் பத்திரிகைகளிலும் இவருடைய படைப்புகள் தொடர்ந்து வெளியாகிக் கொண்டுள்ளன. சென்னை அகில இந்திய வானொலியில் இவர் கதைகள் இவர் குரலிலேயே ஒலிப்பதிவாகி ஒலிபரப்பாகியுள்ளன.
தமிழில் மாந்திரீக யதார்த்தக் கதையாடலாக இவர் எழுதிய அரசூர் வம்சம் நாவல் ஆங்கிலத்தில் 'கோஸ்ட்ஸ் ஓஃப் அரசூர்' என்ற பெயரில் மொழிபெயர்க்கப்பட்டு வெளியாகி இருக்கிறது. தற்போது அரசூர் வம்சத்தின் தொடர்ச்சியாக 'விஸ்வரூபம்' நாவலை எழுதிக் கொண்டிருக்கிறார்.
அறிவியல் கட்டுரை மற்றும் பத்திரிகைப் பத்திகள் இவருடைய கட்டுரையாக்கங்கள். இணையத் தளங்கள் இவர் ஆனந்தவிகடனில் எழுதிய 'உலகே உலகே உடனே வா' தமிழில் முதல் branded column ஆகும்.
மலையாளத்திலிருந்து குறிப்பிடத் தகுந்த மொழிபெயர்ப்புகள் செய்துள்ளார். ஆங்கிலத்தில் இருந்து அருண் கொலாட்கரின் அனைத்துக் கவிதைகளையும் மொழிபெயர்த்தவர் இவர்.
கமல் ஹாசனின் 'உன்னைப் போல் ஒருவன்'(2009) திரைப்படத்துக்கான வசனம் எழுதியுள்ளார். அஜீத் குமார் நடிக்கும் பில்லா 2 (2011) திரைப்பட வசனம் எழுதியுள்ளார்.
இவர் எழுதிய 'நெம்பர் 40, ரெட்டைத் தெரு' அடிப்படையில் உருவாக்கப்பட்ட 'ரெட்டைத் தெரு' (2010) குறும்படத்தில் நடிகராகவும் திரையில் தோன்றியிருக்கிறார்
விருதுகள்
இலக்கியச் சிந்தனை ஆண்டுப் பரிசு (சிறந்த சிறுகதை), கதா விருது (சிறுகதை), பாரதியார் பல்கலைக் கழக விருது (நாவல்) போன்ற பல பரிசுகள் இவருடைய படைப்புகளுக்காகப் பெற்றிருக்கிறார்.
நூல்கள்
இதுவரை இரா.முருகனின் 22 நூல்கள் வெளியாகி உள்ளன.